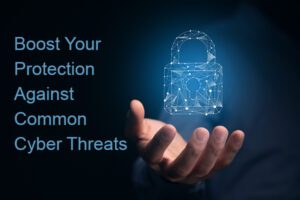 Boosting your protection against common cyber threats
To kick off #CyberMonth2023, the Canadian Anti-Fraud Centre has partnered with Get Cyber Safe, who, like us, understands how important cyber security is to businesses as well as individuals. This blog presents our shared perspective, and we thank them for being a dedicated partner in the cyber security of Canadians.
Finding the motivation to start a new fitness routine can be tough, just like staying up to date on the latest cyber threats. But much like the latest fitness crazes like joggling (jogging and juggling), doga (dog yoga), cyber criminals are also coming up with new and innovative techniques to step up their skills. Luckily, you don't have to be a fitness expert or a cyber security buff to stay ahead of common cyber threats! Learn about them here and how to help protect yourself.
Common cyber threats and how to boost your protection
Phishing
Phishing is one of the easiest ways for fraudsters to steal sensitive information. Phishing messages can take many forms like an email or direct message, a phone call (vishing) or a text message (smishing ) from a cyber criminal pretending to be from a legitimate source like someone you know or a reputable company. The message tries to trick you into giving your personal information by using tactics like urgent or threatening language. Fraudsters can use your information to steal your identity or to gain access to your personal and/or business's accounts.
Boosting your protection against phishing
Delete suspicious messages
Report smishing messages to 7726 and to the CAFC
Investment scams
With reported losses of $308.6 million to the CAFC, investment scams produced the highest losses in 2022 and $161.4 million lost in the first six months of 2023. Like other types of scams and fraud, investment scams can take many forms. The most common form of investment scam involving Canadians is cryptocurrency investments after seeing a fake advertisement.
Romance scams
Fraudsters also target victims on dating and social media platforms by using a form of investment scam called romance scams. The cybercriminal develops a relationship with the victim and tricks them into giving money. In all instances of investment scams, cybercriminals tend to have an appealing sales pitch or story
Boosting your protection against investment scams
Learn more about the common types of investment scams:
Always research investment platforms before investing your hard-earned money
Be wary of too-good-to-be-true offers or individuals asking you for money a short time after meeting them
Service scams
Service scams are a popular trend and involve cybercriminals stealing your money without providing an actual service or stealing your information by gaining access to your computer. Cybercriminals use a variety of different tactics to trick their victims. They may pretend to be a cellphone or existing service provider to ask for sensitive information to perform a "credit check", or they may impersonate a tech support company to gain remote access to your computer putting you at risk of identity fraud.
Boosting your protection against service scams
Never allow individuals remote access to your device
If you are experiencing issues with your device, bring it to a reputable technician
Never provide personal or sensitive information over the phone unless you initiated the call with your service provider
Social engineering
Cybercriminals are clever and will go to great lengths to steal from their victims. Social engineering happens when a fraudster does research on a search engine or social media to learn more about an individual or organization. They then use the information they find to send phishing messages that look like they come from a friend, a boss, a reputable company or another trusted source to trick people into sending their sensitive information, like banking information and login credentials.
Boosting your protection against social engineering
Limit what you share on social media
Use strong and unique passwords and passphrases for each account
Enable multi-factor authentication for added layers of protection in case your credentials fall into the wrong hands
Conclusion
No matter your level of cyber fitness, fraudsters will stop at nothing to steal from their victims. Your best protection against cyber threats is to learn more about them and the simple steps you can take to protect yourself.  To learn more about common tactics used by cybercriminals, explore the Fraudster's toolbox infographic
____________________________________________________________________________________________________
This information was originally shared on the Government of Canada website (https://www.getcybersafe.gc.ca/en/blogs/boost-your-protection-against-common-cyber-threats).  For this blog post, Get Cyber Safe has partnered with the Canadian Anti-Fraud Centre (CAFC), and understands how important cyber security is to businesses as well as individuals. This blog presents their shared perspective, and we thank them for sharing this information to increase the cyber security of Canadians